Commercial Property Maintenance Services
Company Structure
ServiceLink Commercial's organizational structure consists of full-time field staff, supervisors and managers for each main service line we provide as well as full-time customer service managers. Our field technicians possess the necessary training, experience and dedication to get the job done right the first time. We train our personnel to excel in an individual discipline be it pressure washing, power sweeping, painting, handy-man or general labor and they are dedicated to that specific service line. Our structure allows managers, supervisors and field technicians to collaborate together to ensure all services are delivered at the highest standard.
What Makes Us Different
We partner closely with you to achieve the results you want. The ServiceLink Commercial experience begins with a walk through of your property to ensure we fully understand your needs, followed by a detailed written estimate. You'll know exactly what services will be completed and how much it will cost. We'll supply you with recent references and answer your questions promptly and directly. Once you've entrusted us with your project all you have to do is watch the job get done. We work closely with you to make sure every detail is maintained and that you're happy throughout the entire process.
We understand that our reputation is how we get more business and our goal is to make every customer our cheerleader.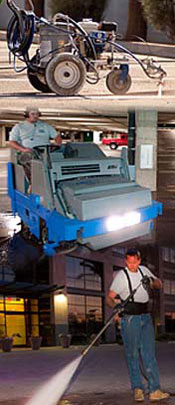 Services We Offer
Who We Serve
Commercial Office Buildings
Medical Office Buildings
Industrial Facilities
Sports Facilities
Retail Facilities
Universities
Plus Much More
We manage our services, so you don't have to!
Fully automated work order system to track all services and performance.
Every vehicle equipped with GPS to ensure service delivery, safe drivers and accurate billing.
We report to you and keep you informed of the level of service being provided.